People Are Not Impressed With This Nigerian Politician Who Thinks Black People Can't Produce Technology
A self-proclaimed "IT guru" who had hopes of becoming Nigeria's next president has provoked outrage after a car-crash interview in which he argued that black people are not "wired" to be technologically innovative.
---
Desmond Olasubomi Okeowo, a candidate for the African Democratic Congress Party (ADC), was a guest on YouTube chat show On the Couch with Falz and Laila. The hosts, entertainer Folarin "Falz" Falana and journalist Laila Johnson-Salami, have been taking several presidential hopefuls to task ahead of Nigeria's presidential elections next year.
The political novice had a relatively low profile when he announced his intention to challenge incumbent President Muhammadu Buhari. And then, of course, his appearance went viral.
The interview — uploaded last Friday — covered Okeowo's professional background, economic experience, and views on feminism, Donald Trump, and Theresa May.
He began by declaring why he wants to be the president of Nigeria, insisting that the country is "under pressure" and in need of "leadership".
But what really got people talking was Okeowo's response to a question about his intentions to make Nigeria "a production society".
To which he replied:
"We're black people. Sorry to say that we're not wired that way."
When both hosts challenged Okeowo, the politician doubled down on his position.
https://twitter.com/Kingwole/status/1031284433150783496
He continued: "There is no way that I can lock you up in a room and I tell you: 'Falz, this is $100,000, I give you a year. Can you produce these eyeglasses that you are wearing?' Your brain can't comprehend it, not to talk of [making] your camera."
Okeowo insisted that black people are not "wired technologically", to which journalist Laila hit back: "Coming from a man in tech that is a bit of a hard statement to comprehend."
The 43-year-old further attempted to clarify his statement, adding: "Wait, guys, don't skin me alive here! See, selling IT, putting in parameters, putting in camera's work for everybody… but when you tell a black man like me to sit down in a room and develop a chip or a camera, trust me, [in] 10 years I'm still battling with it."
Laila then challenged Okeowo on his plans to bring Nigeria closer to achieving the UN's Sustainable Development Goals by 2030.
this is the most underrated part of the interview
Laila finished OLASUBOMI OKEOWO
funny AF🤣🤣🤣🤣🤣 pic.twitter.com/szQhxho5SF

— Afolabi Israel (@AfolabiISR) August 20, 2018
To which the politician replied: "Laila. Laila Laila. Laila. Laiiiila. Laila. I am sorry to let you know this: People like you give us too much stress."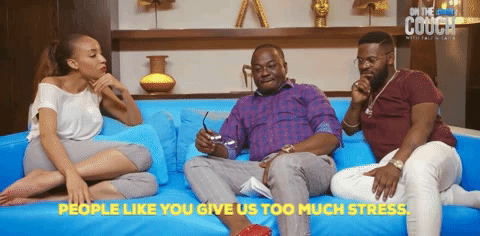 His performance has been branded an "embarrassment" by Nigerians who took to social media.
https://twitter.com/Kingwole/status/1031284433150783496
Olasubomi Okeowo's ignorance is just one of many! There is no way, a person will have that mentality if they've travelled around Nigeria; especially to the east where soo much is being produced and where there remains that potential to produce more!

This is why we need to travel

— Patrick J. (@P_Stewart_) August 22, 2018
https://twitter.com/Kingwole/status/1031284433150783496
What did I just watch? Nigerians cannot produce anything because we're black? Fada Lord! By the way, he's a presidential aspirant, Olasubomi Okeowo. I appreciate the look on @falzthebahdguy face. pic.twitter.com/Y8Hx8YEDZv

— Adeola Fayehun (@AdeolaFayehun) August 20, 2018
Responding to the criticism, Okeowo posted an Instagram comment that suggested he would no longer be pursuing the presidential candidacy of his party.
Okeowo urged those offended to "turn the anger into productivity and show us all it can be done."
In a follow-up post he wrote: "Never will I look down on my people as unproductive. But I have felt the pains of Nigerians youth now and I felt their pulses also. Now that I know what we need to do, I and my team will swing into action to focus our energy on production. Long live Nigeria."
Host Laila Johnson-Salami told BuzzFeed News that she felt Okeowo's performance was indicative of a larger social issue regarding attitudes towards the younger generation.
https://instagram.com/p/Bl7_-r-l5Hx/?utm_source=ig_embed
She said: "I believe it is a generic and constant act of several elder Nigerians towards the youth today. It's an attitude that's inflicted on all of us from a young age. Our culture doesn't necessarily encourage elder people to value the youth who are constantly shut down and not allowed to express their viewpoints wholesomely."
While she declined to comment on Okeowo's decision to withdraw from the presidential race, she emphasised the importance for any presidential candidate to understand what the office means to young Nigerians.
She said: "I believe that it's important for aspirants to really understand what it means to run for the highest office in the nation before pursuing it. Becoming the president of the Federal Republic of Nigeria in 2019 is not a joke in any way, especially with the current and unfortunately deplorable state of the nation. With a current debt of 22 trillion naira, the world's highest unemployment rate, and more, it's important for the youth to know. We cannot afford bad leadership in next year's elections."