Game of Thrones Season 8 Is Coming And Fans Are Demanding A Trailer
Unless you've been living in a sodding cave, you'll know that one of the biggest events in TV history is finally on its way. That's right, the FINAL season of revered fantasy series Game of Thrones will be hitting our screens this April.
Back in November, HBO released a teaser video for the forthcoming series on Twitter – along with news of the release month – showing a selection of shots from the previous seasons, saying: "Every battle. Every betrayal. Every risk. Every fight. Every sacrifice. Every death. All #ForTheThrone."
HBO then kicked off 2019 yesterday with the ultimate cock-tease, tweeting to say it's now 'officially the year' for Game of Thrones' return:
It's now officially the year that Game of Thrones comes back.

— HBO (@HBO) January 1, 2019
Yes, well, that's all well and good – but we knew that. It seems what the fans really want is a 'damn trailer'. With actual footage from the new series and tiny details for us all to pore over until April comes.
I demand the trailer by combat pic.twitter.com/IYnsx6Vb9K

— Brian (@Brianswagg10) January 1, 2019
Trailer plz

— Mike Bloodworth (@mikebloodworth) January 1, 2019
Hey @GameOfThrones it's 2019 where is that trailer at!!! pic.twitter.com/43uy4n6wah

— 𝑔𝒾𝑔𝒾 ⁷ (@lilgoblingigi) January 1, 2019
Give us a damn trailer then

— Chris Maynard (@Chris_maynard11) January 1, 2019
https://twitter.com/sadboykylo/status/1080136986277621762?ref_src=twsrc%5Etfw%7Ctwcamp%5Etweetembed%7Ctwterm%5E1080136986277621762&ref_url=http%3A%2F%2Fwww.ladbible.com%2Fentertainment%2Ffilm-and-tv-game-of-thrones-season-8-is-coming-and-fans-are-demanding-a-trailer-20190102
I mean, if we're going to have to wait until the spring, they could at least do the right thing and give us something to tide us over for now. Throw us a bone, HBO, Jesus.
Some people speculated HBO could be waiting until the Superbowl in February to drop the trailer, as the sporting event is as famous for its ads as it is for the football itself.
Others just remained adamant that one would land 'soon' – a solid chunk of vague optimism that I can get on board with.
It's understandable that we're all on the edge of our seats awaiting the final season, as the HBO president Casey Bloys has promised us the biggest series yet.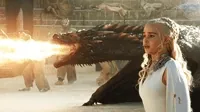 via GIPHY
Speaking to Entertainment Weekly, he explained that there had been a bit of a hold-up with the last hurrah as showrunners David Benioff and Dan Weiss needed to be completely happy with the product.
He said: "Here's what I'll tell you: they take the time they need to do the show at its highest level of quality. As the show has gone on, it's gotten bigger – big battle scenes, big special effects.
"These things take time. Here's the one thing I can assure you: Dan and Dave were not sitting around on a beach waiting to go back to work. They're perfectionists and this is the soonest it can come back at a level of quality that they are comfortable with."
Big battle scenes and big special effects, y'say? Cool, sounds like those would look GREAT in a trailer… Just saying.
Featured Image Credit: HBO